McLuhan's work with the National Association of Educational Broadcasters in the late 1950's was central to his subsequent career and fame. But the first personal contact he had with the organization1 may have been a seemingly inconsequential billing reminder, dated April 8, 1957, that he received from the NAEB secretary, Judith Gans. 
McLuhan appears to have returned the Gans reminder correcting the address it had for him, and presumably enclosing his payment, with the following handwritten note:2
Dear Mrs Gans,
Please note that our mag Explorations is of great relevance to NAEB affairs — especially no7.
There is in no7 report of new media experiment which you will want to report to your readers.
Explorations
University of Toronto
Toronto 5
Sincerely yours
H M McLuhan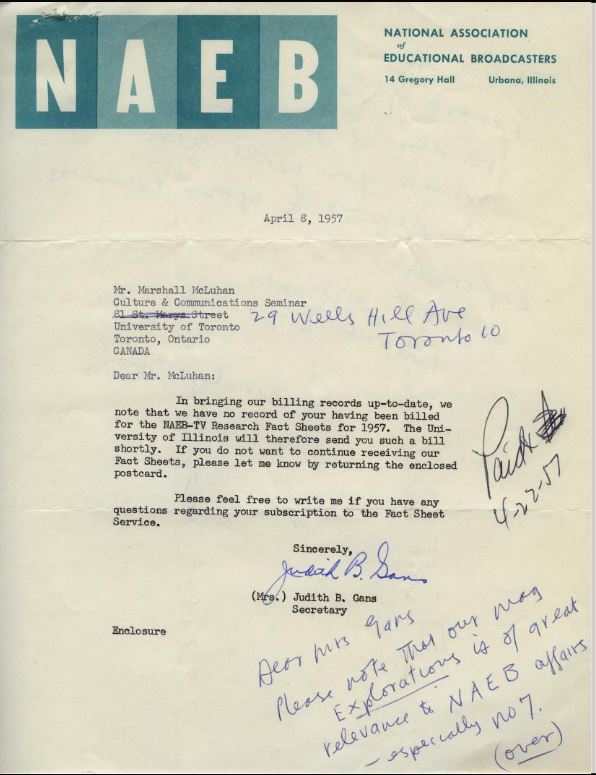 McLuhan's reference in Explorations 7 must have been to 'The New Languages', pages 4-21, which lists McLuhan's close friend, Edmund (Ted) Carpenter, as its author at its end.3 The "media experiment" is reported on pages 16-21. But this essay had previously been published in the Chicago Review4 and there McLuhan was listed as Carpenter's co-author. Indeed, much of the language of the paper plainly stems from McLuhan.
McLuhan's "scrawled" note was remembered by Harry Skornia over 30 years later5 as igniting the intense collaboration the two would come to have over the next 4 or 5 years.6 With it, McLuhan had correctly sensed the felt need within the NAEB community for a 'scientific basis' to ground its commitment to new media in education.7