The optophone was not a figure of Joyce's creative imagination — Tis optophone which ontophanes  (FW 13:15) — but a real instrument described in a Royal Society notice in 1914 as follows:
On a type-reading optophone
E. E. Fournier D'Albe
Communicated by Sir Oliver Lodge, F.R.S.1
The production of sounds directly or indirectly due to the incidence of light is the general function of instruments of the type of Graham Bell's "photophone." An instrument designed to solve the more special problem of substituting the sense of hearing for the sense of sight is more appropriately termed an "optophone." Having concerned myself for a number of years with this special problem (…) an instrument has resulted which should, with some practice, enable totally blind persons to read ordinary books and newspapers through the sense of hearing. (…) I wish to thank (…) especially Sir Oliver Lodge for the kind interest he has taken in the whole investigation.2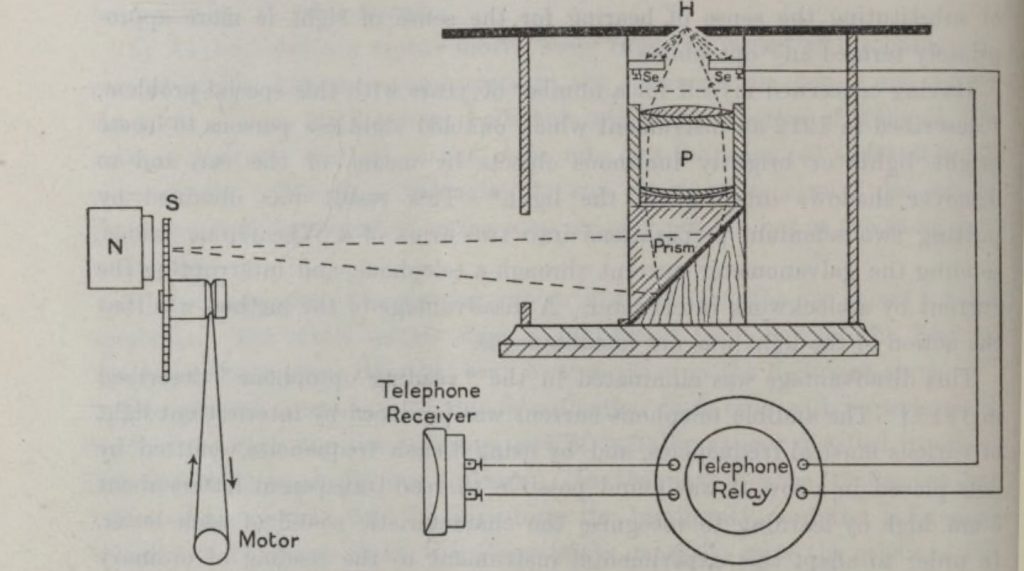 A short description of a somewhat later iteration of the optophone is given in the Genetic Joyce online journal:
The apparatus consisted of a vertical arrangement of five light sources and detectors that was scanned across printed characters, each detector corresponding to a note on the musical stave with the amplitude indicating the amount of reflected light. In this way a blind person could interpret the tone as a letter and piece together words.
For McLuhan the "optophone principle", the power of translation of one sense into another — in human beings and now in machines — pointed backwards to his study of 'the common sense' with Bernard Muller-Thym when they both were teaching at St Louis University. In 1940 Muller-Thym published 'Common Sense, Perfection of the Order of Pure Sensibility' which focused particularly on the notion of 'common sense' in Aristotle and Thomas.3 And behind that were McLuhan's sessions at Cambridge in the middle 1930s with Arthur Quiller-Couch, the doyen of the English school, on Aristotle's Poetics.4 At the same time it pointed forwards to "the medium is the message" where the medium is the fulcrum or crossroads of the senses as the generator of experiential life-worlds: Tis optophone which ontophanes. 
Human history had come to a decisive juncture (and not only for humans, but for all the beings unhappily sharing the biosphere with humans). By outering the power of "the common sense", but doing so only in the physical sciences and not at the same time also in the social sciences, humankind had created a danger that was potentially suicidal for itself and murderous for all its fellow species. This was the background to McLuhan working on a "survival strategy" and the key to this strategy was guessed in 1954 with the "opto( )phone principle".5