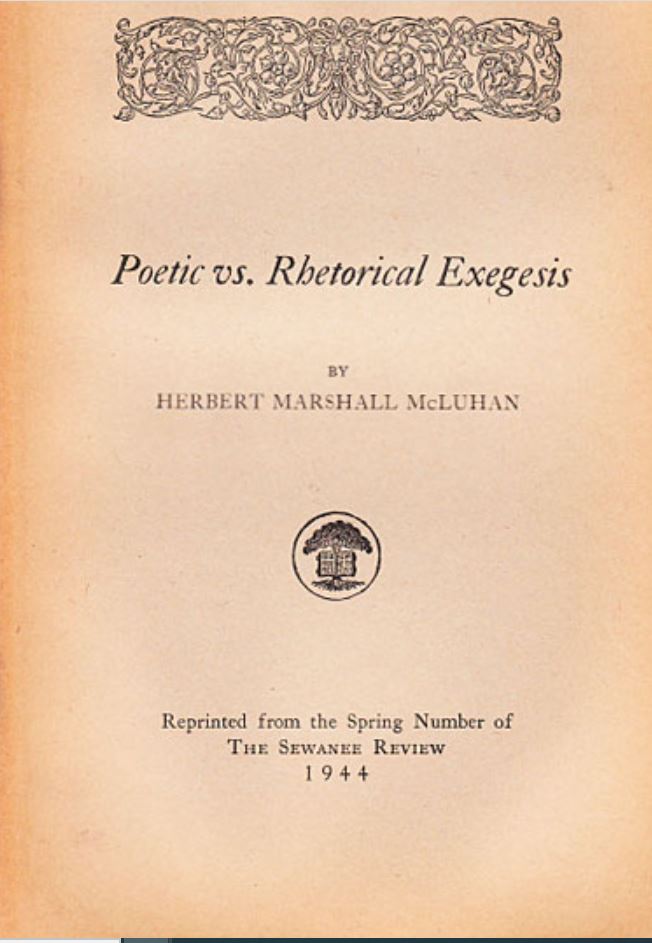 In McLuhan's 1944 essay 'Poetic vs Rhetorical Exegesis: The Case for Leavis against Richards and Empson'1, an involuted set of ideas may be seen which dominated McLuhan's intellectual life from start to finish — not in a straight line, of course, but as a kind of complex formula persisting through maelstroms and flips.
The loss of tradition has left the world rudderless and it is the resulting general confusion that is responsible for our international, social and intra-individual wars.
The loss of tradition has resulted first of all from a loss of acuity among what should be our intellectual elite (but in the event we have only the blind leading the blind). This situation can be put right if, and only if, intellectual acuity is regained.
Intellectual acuity can be regained because the fundamental dynamic underlying tradition is the two-way fit between right thinking and reality, between acuity and truth, between logos and Logos.2
The demand made on acuity (a demand resulting from its nature, on the one hand — acuity demands acuity about acuity3 — and from the extent of our problems, on the other) is to come back

from

reality, truth and Logos

to

right thinking, acuity and logos.4 
Once this backwards flip to the beginning(s) is realized it must be articulated for "for general recognition and experience".5
There are two great riddles to these ideas which McLuhan had to solve. First, how does thinking work towards where it must come back from? Second, how does acuity as it 'sharpens' itself become more "general" and exoteric rather than more specialized and esoteric? The answer to both riddles is: communication. But it would be 15 years after 1944, when McLuhan was almost 50, before the second became clear to him. And the first continued to elude him (despite his insight into the "gap" and "discontinuity" and the "flip" and "resonance") just as it has forever eluded everyone else as well.
The journey to/from the beginning(s) is the way, the only way, out of the cul-de-sac in which the world today — the global village with nukes — finds itself. Or loses itself.
We shall not cease from exploration
And the end of all our exploring
Will be to arrive where we started
And know the place for the first time.
Through the unknown, remembered gate
When the last of earth left to discover
Is that which was the beginning.
(Eliot, 'Little Gidding', Four Quartets)6
All these ideas and problems may be seen —  articulated, half-articulated. and awaiting articulation — in two passages from the 1944 'Poetic vs Rhetorical Exegesis':
The entire effort of Mr. Leavis has been to realize (…) insight in such a way as to make it available for general recognition and experience among intelligent readers.7 It represents not only a major critical effort but the extension and refinement of sensibility as the very8 mode of critical activity and of discriminatory reading and response.
Leavis (…) without any chance of popular recognition [has been] engaged in executing the program which Mr Eliot (…) indicated but relinquished.9 Just how well he succeeded the reader [McLuhan himself, of course] who has worked for six years with Revaluation is best able to say.
In the wake of Eliot and Leavis, McLuhan took it upon himself "to realize (…) insight" in its "very mode" and to do so in "such a way as to make it available for general recognition and experience".  Fifteen years later later he would come to see that this was the path the physical sciences had taken and that the "very mode" of insight needed to instigate science in a similar way in the humanities and social was focus on the medium.