The NAEB "Understanding Media" project, which would commence in September 1959, was notified of its funding by the HEW Office of Education in a letter from May 15, 1959: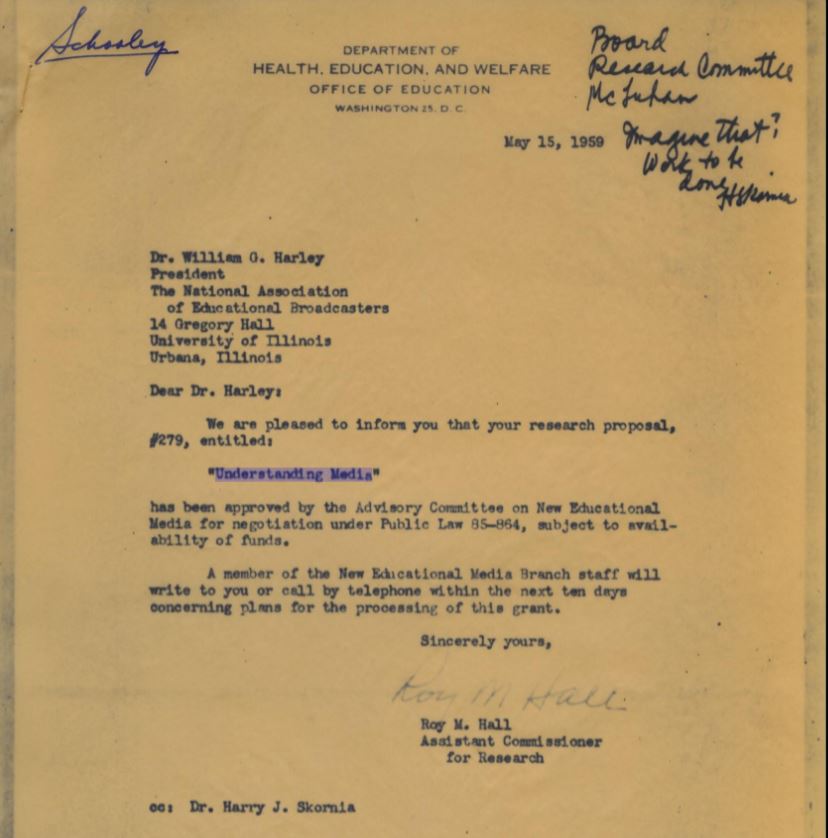 'Schooley' in the top left referred to Frank E Schooley (1906-1987), professor at the University of Illinois, and the past president of the NAEB. The current NAEB president, William G Harley (1911-1998), was also at the University of Illinois and the director of its radio station.
The note on the right top is from H J (Harry) Skornia (1910-1991), McLuhan's great supporter and friend, who was the NAEB Executive Director. Skornia, who was cc'd on the letter, directed  that copies go to the NAEB board, to the NAEB research committee and to McLuhan. "Work to be done"!
"Imagine that?", he asks, 'what about that'! But with that question mark instead of an exclamation, Harry may also have been addressing those who had doubted that a grant could be won, perhaps including McLuhan and surely including Harry himself to some extent as well. Time unspecified between the past and present, the exfoliated message was: 'you couldn't imagine that this could be done? Can you imagine it now'? 
It is noteworthy that the Office of Education apparently had a 'New Educational Media Branch' to whom Skornia had persuaded McLuhan to direct the funding request. McLuhan had argued that new media could not be understood alone, but only as first of all belonging to the general field of all media, past, present and future. But he gave way to Skornia's practical advice to target 'new media' — at least in their proposal.
On May 18, presumably the day the letter was received, Skornia wrote McLuhan of the award: "Let's make this the finest thing to hit North American education in a century."