McLuhan's first contribution to The Sewanee Review was 'Edgar Poe's Tradition' which appeared in the Winter Number of 1944 (52:1, pp. 24-33).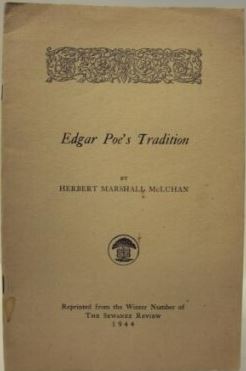 McLuhan gave an offprint of his essay to Wyndham Lewis with the inscription: "For Lewis with the most friendly esteem – from Mac".
In it, describing both Poe's situation, and his own, McLuhan wrote:
While the New England dons primly turned the pages of Plato and Buddha beside a tea-cozy, and while Browning and Tennyson were creating a parochial fog for the English mind to relax in, Poe never lost contact with the terrible pathos of his time. Coevally with Baudelaire, and long before Conrad and Eliot, he explored the heart of darkness.
A couple years later, also in Sewanee, he would begin a lifelong characterization of such exploration of the heart of darkness, again with Poe, as 'A Descent into the Maelstrom'.1
'Footprints in the Sands of Crime' (Sewanee Review, 54:4, 1946): "The sailor in (Poe's) story The Maelstrom is at first paralyzed with horror. But in his very paralysis there is another fascination which emerges, a power of detached observation which becomes a "scientific" interest in the action of the strom. And this provides the means of escape." For discussion see Cleanth Brooks on the Maelstrom. ↩