McLuhan's Centre for Culture and Technology report for 1966 was brief:
Last year the theme of the seminar for the Centre had been "The recognition of Change." This year the theme was "Future Changes in the Man-Made Environments" of work, advertising, technical education, politics, science, money, language, the motion picture, the city, the school, consciousness and the unconscious.
Our sessions were graced by people from various fields of study and work, such as L. H. Freiser of the Electronics Information Services of the Board of Education, Graeme Cropley, Australian architect, and Barry Nevitt from the Ontario Department of Economics and Development.
The first phase of our sensory research project nears completion under the direction of Professor Daniel Cappon. This work has been made possible by a grant from I.B.M. of Canada. The second phase of the study concerns the production of a sensory profile of the Toronto population.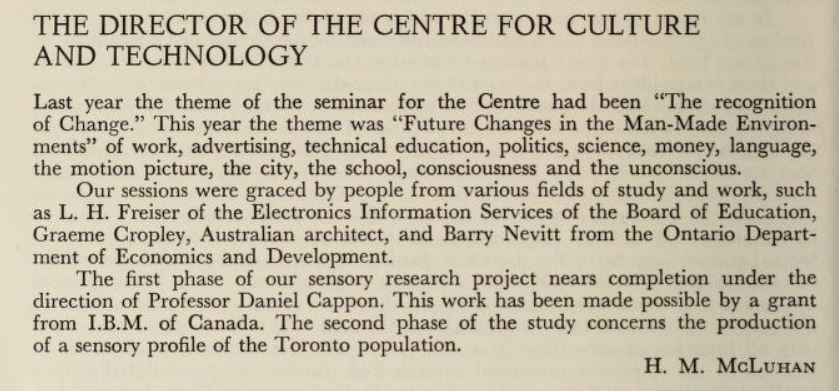 The 1966 President's Report does not include listings of lectures by McLuhan (or others), but it does include a surprising observation about McLuhan from his friend, Claude Bissell, the UT president: 
The key to attracting staff is a reputation for scholarship. This University enjoys such a reputation, even more widely outside than inside the country. The constricting domesticity of Canadian comment frowns upon claims of excellence. Marshall McLuhan was a colleague with a few amusing and provocative ideas until the journals in New York and London began to put him in the company of the great social critics.
This could be interpreted in several ways and was probably intended by Bissell to be ambiguous. He was doubtless unhappy with McLuhan's departure for Fordham and the possibility that McLuhan might continue there or take one of the many other offers he had from US institutions.